Manager of the Season: who is Pardew's competition?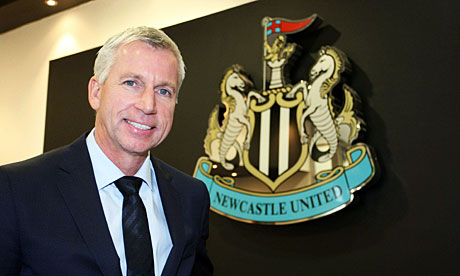 Pardew attracted just 14 votes (1%) in a poll of supporters on who they wanted in the hotseat after Chris Hughton's sacking back in December 2010. However, since then, the London-born Pardew has transformed Newcastle United's fortunes, ecouraging some much-needed stability. 
While he has been able to cultivate a closely-knit team, united together in attempting to obtain European football, he's improved the fluidity of the football as well, encouraging a fast-paced, attacking style of play. He's shown his colours as a man-manager and has managed to get the best out of the difficult players, such as Hatem Ben Arfa.
He has encouraged a positive competitive dressing-room atmosphere, which has resulted in players such as James Perch and Ryan Taylor coming to the foreground. They've deservedly earned first-team places; positions which seemed beyond them at the beginning of the season.
Pardew's positive effect has resulted in him becoming one of the front-runners for the prestigious Manager of the Season award. However, he faces stiff competition from several other talented gaffers:
Brendan Rodgers – Swansea
This season, Brendan Rodgers, the former Chelsea Reserve team coach-turned-manager, has proven his leadership capabilities. After impressing at Watford and Reading, he was snapped up by Swansea City in July 2010 and hasn't looked back since. Promotion from the Championship in his first season saw Swansea's first venture into the top flight, but they have certainly proven they're a side to be reckoned with. They have turned the Liberty Stadium into a fortress and have picked up incredible victories against Arsenal and Manchester City along the way. He's got them playing fluid football, similar to that of Arsenal's style of play. He is the man who poses the biggest threat- he's young, passionate and knows the game inside out.
David Moyes – Everton
David Moyes is a consistent performer. Season after season he's provided with very little funds during the transfer window. However, time and again, he manages to surpass the pundit's low expectations and get the best out of a restricted squad. His side has managed to pick up convincing wins against Liverpool, Manchester City, Chelsea and Tottenham this season and has even been able to to surpass their bitter rivals, Liverpool, in the league. His ability hasn't gone unnoticed and he's favourite to succeed Harry Redknapp at Spurs, who looks set to take up the England job at the end of the season. He has won the award three times already (2003, 2005 and 2009)- perhaps it's time for a change?!
Harry Redknapp – Tottenham
Harry Redknapp has continued to improve his North-London side. When taking over from Juande Ramos in October 2009, the club were just above the relegation zone. However, he quickly turned the club's fortunes around and has continued to expand the club. Some inspired signings such as Scott Parker, Emanuel Adebayor and Louis Saha (who ripped us apart back in February) have helped the club to push into the Champions League places. Although recent results have not kept up with the impeccable form shown during the early part of the season, he has shown his capabilities and is widely expected to take up the England job at the end of the season.
I think that Pardew has a fantastic chance in winning this years accolade. Despite being subjected to enormous pressure from the expectant Geordie fans, he's kept his cool and has turned the Newcastle side into one of the most respected teams in the Premier League, alongside the likes of Arsenal, Liverpool and Tottenham.
Comments Welcome