The Significance of our Latest Transfer Strategy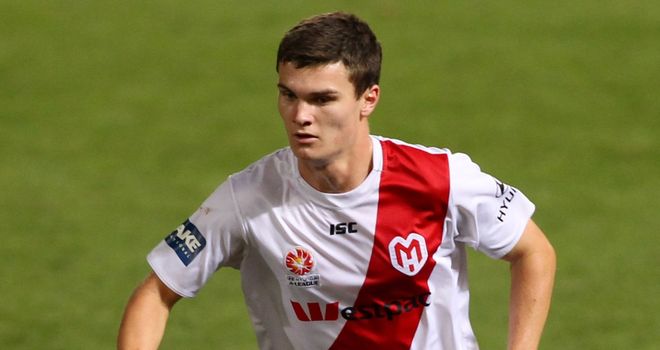 There was news yesterday that Melbourne Heart defender Curtis Good is on his way over to England for a trial with Newcastle United.
Now we don't know a lot about this young defender but, as suggested by the Melbourne Heart manager, he has been tracked by several 'top European Clubs'. The fact that he is relatively unheard of suggests that the club have now stationed several scouts in Oceania in hope of unearthing some rare Australian talent. 
The left-footed central defender has looked good in his very first season in the A-League, and he joined the Heart from the AIS in February of last year, after he had looked impressive for AIS. Curtis only tuned 19 last month,  and he has already played 3 times for the Australian U20 side, so he would be one for the future at Newcastle.
General manager John Didulica, whose club was founded four years ago,  confirmed the 19-year-old had just left for a trial at the famous St. James' Park club, as he tweeted:
       "Curtis Good left last night for a 10-day trial with EPL's Newcastle United."
Although many people may not read a lot into this transfer rumour, I think that, if it is true, we should be excited by this news. The fact that we have given this young lad an opportunity is something which should be commended and hopefully again, Graham Carr and his team have unearthed talent from an unlikely destination. 
We saw glimpses of this open mindedness earlier on in the year when we offered Jason Prior, the Bognor Regis striker, a two week trial at the club. Although he failed to win a contract with the Tyne-side Club, the initiative they took in giving the lad a chance was something we haven't seen from the club before. Many Premier League clubs would be too proud or hauty to consider stooping 'so low', but this audacity really could pay off.
We have seen this sort of move in the past, with the likes of Ian Wright (voted 4th greatest ever Arsenal player) originally being signed by Crystal Palace from Dulwich Hamlet just 3 months short of his 22nd birthday. Another example is Chris Smalling, the Manchester United central defender, who was playing for Maidstone United only two years ago.  
Even if Curtis Good doesn't come good in the end, it's certainly an interesting and exciting move from the club. This approach should be embraced and I hope we continue to offer young lads a chance to show their potential. 
What do you think?