The Curious Case of Danny Simpson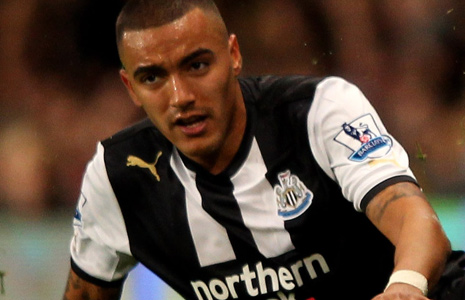 It's no secret that Newcastle united are having a cracking season and are almost certain of a place in the Europa league . Naturally, a lot of credit goes to the strikers and the attacking midfielders for banging the goals in. But a lot of credit should also go to the Newcastle back four and the goalkeeper who have collectively kept 13 clean sheets.
Different players have been tried and tested in different positions , especially at center back and left back. But one position that has been consistently occupied has been right back, by Danny Simpson. Danny has been an ever present (apart from last 10 minutes against Tottenham) in the league for the team since the season began against Arsenal on Saturday 13th of August.
It is not only this season that Simpson has been consistent, ever since joining the club United from Manchester United in August 2009. He initially joined on loan before making the move permanent for a fee believed to be  around half a million. And since joining, he hasn't looked back and has virtually played in every game for the club. The only period in which he didn't feature was during the start of last season when he was undergoing ankle surgery.
Danny has got some invaluable attributes as defender- he has pace, his positional sense is good, rarely gets booked and his off the line clearances are priceless. However, there are several issues: with his style of play hasn't fitted well alongside the one that Alan Pardew is currently playing. The 4-3-3 formation is different from a 4-4-2; the demands from a full back in this formation are different. One is expected to provide the width to the attacks and to be honest Danny has failed to deliver in that regard.
In addition to that Danny hasn't looked very comfortable on the ball and his passing has been equally poor. Danny however, first and foremost, is a defender and 13 clean sheets are proof enough that he is a good enough defender. In fact, Newcastle's defence would be as good as both Manchester clubs if you exclude the two leatherings in London and a performance against Norwich City where both the central defenders were missing and he had to fill in as a center back.
The reason why we are discussing Danny Simpson is because he is out of contract at the end of next season 2012-13 and the talks of signing a new and improved contract have not yet come to fruition.  Alan Pardew has said that he would like Danny to stay and the player has also made it clear that he would love to continue at the club which had faith in him.  However, we have been hearing this for quite a while now and if an amicable solution to the situation is not reached, then we fear the worst for Danny. It has been alleged that he has been asking for more money than what the bosses are willing to pay.
With Newcastle now almost certain to be in Europe, the hierarchy may be looking at better options ,with the likes of Erik Pieters' name being bandied about a lot in recent weeks. With the ruthlessness that the Toon bosses have shown in the past, we would not be surprised if Danny is indeed shown the door. If he has any doubt about that then he can look at the likes of Joey Barton, Kevin Nolan and Andy Carroll.
The ball, as they say, is in his court and the decision rests with him, we of course would like him to stay and dish out as good as defensive displays as he has done this season. However, when we do indeed splash the cash this Summer, it would be tempting to look into new wing backs with European experience . The situation is interestingly poised and for what transpires next, watch this space.
written by Himanshu Dhingra