Newcastle continue French connection, sign Romain Amalfitano from Reims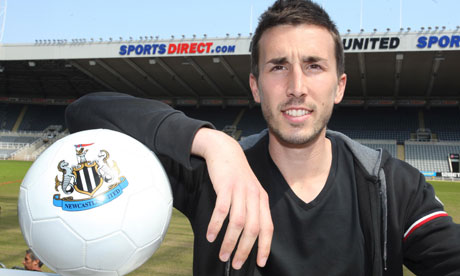 With the way Newcastle United manager Alan Pardew is amassing French talent, you might think he acquired the blueprints Arsenal manager Arsene Wenger used to build up the Gunners in the latter portions of the 1990s.
Just as Wenger infused Arsenal's prodigious spine with a number of excellent French internationals—Patrick Vieira, Emmanuel Petit, Thierry Henry, Robert Pires all played crucial roles in securing the heaping mounds of silverware that piled up in the Highbury trophy case (three of those four were part of the Invincibles side)—Pardew, elected the 2011-12 League Managers' Association 'Manager of the Year' has begun doing the same.
While France are still struggling to shrug off that irksome stigma that stuck after that disastrous 2010 World Cup in South Africa, the new wave of talent, much of which will be on display at the upcoming European Championships, has L'Hexagon feeling confident—unthinkable just two years ago. And nowhere can you find more of those talented players than at Newcastle. Hatem ben Arfa and Yohan Cabaye have both been named to the 26-man provisional Euro squad for Les Bleus, and it'd be a safe bet to pick both for the final roster.
Cabaye, ben Arfa and Gabriel Obertan have all enjoyed consistent playing time under Pardew, and just as Wenger also brought in French-speaking Africans to Arsenal in the 2000s, so to has Pardew profited from the wonderful contributions of Ivorian Cheikh Tiote and the scintillating Senagalese attacking duo of Demba Ba and Papiss Demba Cisse.
Now Romain Amalfitano, signed Wednesday from recently promoted Reims, can add his name to that burgeoning bunch of French speakers.
"I am very happy to be a Newcastle player," the Nice-born Amalfitano told Newcastle's official website. "I have seen a bit of the city already and it is a change from France but one I am really looking forward to.
"When a club like Newcastle wants you to play for them it can only be a good thing. I have taken the opportunity to play in the Premier League and cannot wait to get going."
Just 22, Amalfitano will join Newcastle officially on July 1, when his current contract with Reims expires. He is considered one of the brighter attacking talents in French football, with his savvy midfield play a key reason behind Reims' successful 2011-12 campaign.
It should be fascinating to see how Pardew uses him in the Newcastle set up next season. With a Europa League campaign on the cards, squad rotation will be a must, meaning Toon fans will get a good hard look at Amalfitano's considerable ability.
Here's a video of the lad in action: http://www.youtube.com/watch?v=FHqDtP3Xsm8
Comments Welcome