Can Newcastle Expect More Goals from Yohan Cabaye Next Season?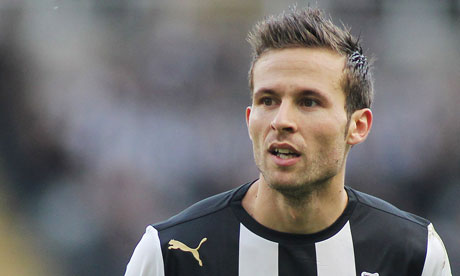 Yohan Cabaye's four goals and six assists in 2011-12, his debut season in the Premier League after making a £4.8 million move from Lille last summer, is hardly cause for alarm.
Much is made about the transition period footballers entering the EPL from another league must endure before they might hope to thrive. There are exceptions to the rule, obviously (see: Papiss Demba Cisse), but it is to Cabaye's credit that he adapted to the speed of the English game so quickly.
But there is always room for improvement. And considering that Cabaye netted 19 goals in all competitions—and 20 assists to boot—in his final two seasons with Lille, it seems logical that fans might expect more production from him in the goal-scoring department.
At least seven of those 20 goals came from the penalty spot, which would help explain him accruing such a high return despite operating in a central midfield role. But 20 goals—an average of 10 a season—is nothing to sniff at. Many forwards don't reach that number.
Could Cabaye rediscover that nose for goal in Tyneside? Perhaps. After all, there's another central midfielder in the Premier League renowned for his eye for goal that he might take some pointers from.
Frank Lampard, the second-leading goal-scorer in Chelsea's history with 186 strikes, operates from a deeper midfield position, like Cabaye. The former West Ham product has made a career out of finding the back of the net in a number of ways: penalties, searing shots from distance, close-range finishes in the goalmouth area.
That versatility and adaptability has allowed him to be such a consistent scorer. Can Cabaye do the same for Toon?
Lampard has often been paired with at least one (sometimes two) defensive-minded midfielders—Claude Makalele, Mikel Essien and Jon Obi Mikel jump to mind—allowing him the freedom to roam about the middle and final thirds. With Cheik Tiote manning the defensive duties (with aplomb, I might add) for Newcastle since joining the club ahead of the 2010-11 season, Cabaye was granted a similar amount of freedom to exert his prodigious creative abilities during his debut season. There's no reason to think the Frenchman won't enjoy an increased impact, and perhaps more goals, in his second EPL campaign.
Cabaye started in France's Sunday friendly against Iceland, a tune-up for Les Bleus ahead of Euro 2012, and he had a clear-cut chance on goal in the 27th minute when Iceland's defense spilled a neat through ball from winger Jeremy Menez. Cabaye latched onto the ball, but only managed to fire wide of keeper Hannes Thor Halldorsson.
Despite his limited chances to get forward in attack during the first half—he was tasked with the defensive sentinel role in Laurent Blanc's 4-3-3 formation; and when Samir Nasri and Yoann Gourcuff are your two other midfielders, you know you'll be on your own for the most part as per defensive chores—Cabaye still managed several to unleash several shots on goal.
It was that ability to pick out space and fire from distance that will likely bring a smile to Newcastle fans. More goals from Cabaye would be a welcome addition to the burgeoning Toon attack, thus forcing defenders to ease off the formidable strike duo of Demba Ba and Cisse. A well-rounded attack would be a boon for 2012-13, when Newcastle can feel confident about their ability to make run at the top-3, and perhaps even, in a perfect world, a shot at the league title.
Foreshadowing during the friendly?
Newcastle could boast that two of the French starters on the night in Valenciennes ply their trade at St. James' Park. Hatem ben Arfa and Yohan Cabaye both trotted out to start the match, but Newcastle fans may have been most intrigued by the right-back who was named in the starting XI for Les Bleus.
Mathieu Debuchy has been linked with a move to Tyneside this summer, and reportedly has been bending the ear of ben Arfa about what life is like at the club. Should he make the move official this summer, it could only help the team next season if three of its players are spending time playing together at the Euros.
Speaking of goals, Debuchy netted France's first on the night after the hosts went 2-0 down after Iceland struck in the 28th and 34th minutes. That spurt shocked the home crowd into silence before they found their voices, raining a chorus of boos that gradually built into a dastardly crescendo at the halftime whistle.
It wasn't the prettiest of goals—Debuchy pounced upon a rebound in the six-yard box, but his powerful volleyed finish was quite impressive. It was the latest contribution for Debuchy at the national level: he had provided the assist for Olivier Giroud's opener before sending in the cross that bounced across the penalty area before Florent Malouda pounced upon it to seal victory for France.
Once more Debuchy's contribution augured well for France—they went on to snatch victory from the jaws of defeat against Iceland, ending with a 3-2 win.
What Do you Think?