How Does Alan Pardew Compare to His Predecessors?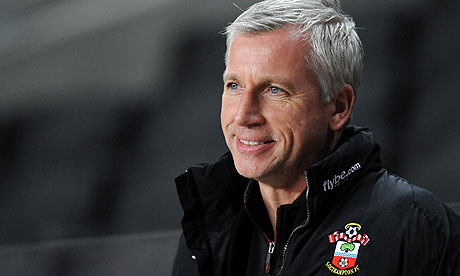 Undoubtedly, Alan pardew has had a fantastic year with Newcastle United in his first full season in charge, leading the club to the unfamiliar but embraced heights of fifth position, qualifying for the UEFA cup and, consequentially, winning the PFA manager of the season award. Therefore, we have endeavoured to analyse his statistics in comparison to past Newcastle managers.  
This is Alan Pardew's fifth job and needless to say that this is the most high profile and the most demanding of them all. Given the fact that he has now completed  a full year in charge of the club with his ideas and philosophy it's a good time to see how well he has done, statistically anyway.
Pardew at Newcastle has now been in charge for 66 games and his overall success rate has been 42.42%, winning 28, drawing 19 and losing 19 aslomg the way. However if you take the dismal results of both the cups out, guess what, instead of improving, the percentage declines. The revaluated record reads: Played 60 – won 25, lost 16 and drawing 19, the winning percentage being 41.66%.  
However, in this first full season with Newcastle United Alan had a winning percentage of 50%, winning 19, drawing 8 and losing 11 in the league. In the domestic cups, he won 3/5 matches (60%) and we can perhaps say that he is definitely improving his numbers.
Looking at pardew's previous jobs, the best in terms of numbers he did was at Southampton where he achieved a success rate of 53%, where lets be fair they were like a big fish in a small pond. And with some disappointing results in must-win matches, Pardew was dismissed with reports of conflict between him and the club chairman.
The worst period for Alan Pardew was at Charlton Athletic where he had an overall percentage of 31%; then again, it was a club in decline and we probably should not read too much into what happened at the valley. Pardew's record at two other clubs that he managed is:
| | | |
| --- | --- | --- |
| Club | No Of Games | Win % |
| Reading | 212 | 48.11 |
| West Ham United | 163 | 41.10 |
As said earlier Newcastle United is different from all of the other clubs that Pardew has managed before. For one it's not down south or remotely south and being a single club in a big city fans demands are higher.
Comparing Pardew's results with some of the other managers that have had the reigns at St. James's park in the last decade or so should also shed some light on his time at United and how he has coped.
Not including the incomparable Sir Bobby Robson, the first spell of the legendary Kevin Keegan and caretakers, the records of recent managers reads like this.
| | | |
| --- | --- | --- |
| Manager | No Of Games | Win % |
| Graeme Souness | 87 | 44.82 |
| Glenn Roeder | 72 | 45.83 |
| Sam Allardyce | 24 | 33.33 |
| Kevin Keegan | 21 | 28.57 |
| Joe Kinnear | 18 | 22.22 |
| Chris Hughton | 64 | 59.38 |
Some managers have a better win % some worse, but we must not discount the fact that some managers had to deal with total chaos and some had the advantage of UEFA cup (back then as it was called) to decorate their numbers. The final judgment remains with the readers as to who was better and failed to cut the mustard; because we just can't compare apples and oranges as the situations have changed remarkably in last 5 years.
I know comparisons sometimes are not ideal, but never the less, I am going to take the risk and compare Alan Pardew's record with two of the legendary managers in modern day football and see how his numbers stack up. We are not drawing any conclusions just putting numbers up.
| | | |
| --- | --- | --- |
| Manager | Win % (Overall, Including current club) | Win % (at Current Club) |
| Alan Pardew | 42.80 | 42.42 |
| Sir Alex Ferguson | 57.92 | 59.41 |
| Arsene Wenger | 53.47 | 57.05 |
As someone once said, 'Statistics are like bikinis they conceal more than what they reveal'. This is definitely the case with Pardew. It is perhaps unfair to judge him in comparison to other Toon managers, with circumstances varying the whole time. After all that has been said and done another conclusion that we can draw is that I talk too much to myself and stop doing it ASAP.
Let us know what you think