£17 Million for Andy Carroll?! West Ham Can Have Him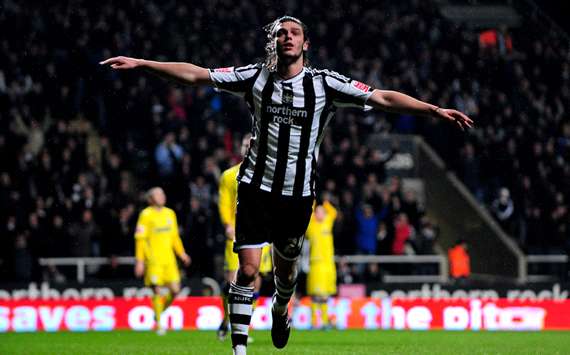 One of the most recent in a long line of transfer rumours involving Newcastle United is of a possible return of local lad Andy Carroll from Liverpool.
The striker was sold to the Merseyside club for £35 million last January, which was a record fee for a British player, and the record fee the club has ever received from the sale of a player.
Carroll has been unimpressive in the first year-and-a-half of his spell with the Reds, and with the arrival of a new manager in Brendan Rogers, it appears that Liverpool are intent on moving on and cutting their huge losses. The signing of Carroll was one of many poor moves form Liverpool recently, and spending so much of their budget on him was a key contributor to their struggles in the league last season.
More recently, including his play in a number of key cup and international games, Carroll has started to look more like the player Liverpool splashed out on, but not to the point where it's even close to saying it was money well spent.
Frankly, Mike Ashley is looking genius for the sale, and the idea of potentially bringing him back on loan with an option to buy just confirms this.
But, as nice as that sounds, it's not going to happen so cheaply, as Liverpool want to sell the striker permanently, for a fee much nearer to £20 million, than the option to buy of £13 million that Newcastle had offered.
With West Ham offering a fee of £17 million for the striker, Newcastle's hopes of getting a deal done on the cheap are all but gone, and they should be very hesitant to match that offer.
When you make so much money off a transfer, it's not wise to give half of the fee back once the player has failed, when instead you can spend the money smartly elsewhere, as Newcastle already have done over the last year or so.
It would be nice to have Carroll back, but you don't spend £17 million on someone who isn't as good as the two strikers that you already have, and who you spent only a combined £10 million on. It's shrewd moves like that which got Newcastle where they are today, but spending this much money on a single player would be a step in the wrong direction.
The only way in which this transfer would be acceptable for this asking price is if Demba Ba leaves, which is a distinct possibility until the 31st of July.
Ba has a release clause of £7 million that has yet to be triggered, but if it is, Newcastle will be forced to bite the bullet and spend the money on Carroll. At least that way they'd have an extra £7 million to pay for him, and won't have to worry about putting him on the bench.
Ultimately, spending this much on a striker who hasn't been great should only be done in desperation, and with Demba Ba and Papiss Cisse, Newcastle aren't in that situation. The Magpies' transfer policy of finding lesser-known talent on the cheap has done way too much for them so far to blow it on a move like this.
Comments Welcome