Andy Carroll Holding out for Unlikely Move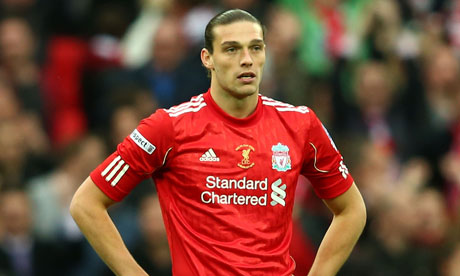 Although this is not a piece of news which directly concerns Newcastle United, it is certainly well worth mentioning because it may well end up concerning Newcastle sooner rather than later.
As has now been well reported across most media sources in the UK, Andy Carroll has turned down the chance to move to West Ham on loan with an option to buy for £17 million after that.
Whether this is because he feels West Ham are beneath his level, or because he doesn't want the ignominy of being shifted by Liverpool – who are of course trying to adapt to a style which is totally alien to his strengths – merely 18 months after they made him one of the world's most expensive players or whether it is something totally different, nobody knows for sure except the man himself.
Given that earlier in the summer he seemed to indicate that he would favour a move to Newcastle, and the brief links with AC Milan have not developed in any way, it would seem that if he is indeed to leave Liverpool this summer, a return to Newcastle would be the only destination.
This is not entirely surprising – although Carroll is nearly unplayable in the air on his day, his lack of technical ability on the ground – he has a decent touch and a good shot, but his passing is not very impressive and he takes a very long time to make the small movements (turns and changes of direction) that have become so important in modern football – and poor acceleration means that he cannot offer much to a side playing a brand of football that is not very direct.
The problem for Carroll is that he does not seem keen on moving to a club that is on the same level as Liverpool or Newcastle – such as West Ham – but there are no clubs at the level he wants to play at which would seriously consider adapting to suit his strengths. Furthermore, he is reportedly earning £80,000 a week and this seriously weakens the likelihood of any smaller clubs being able to free up funds to buy him.
Perhaps partly because of these issues, in Newcastle he feels he has a genuine chance at playing at a similar level to what he had at Liverpool whilst being able to play regularly – and despite their pain at his sudden departure, many Newcastle fans will still welcome him back with open arms as a Geordie boy, one of their own – every fan loves seeing a local product play for their club.
However, Newcastle have moved on from the days of Chris Hughton's more direct – though still very good and effective – approach and under Pardew have adopted a much more continental and aesthetically pleasing style of play, one which will suit Carroll about as well as that of the club he would be leaving behind.
Yohan Cabaye has himself admitted that before he agreed to come to Newcastle he was very keen to make clear to Alan Pardew that he did not want to be coming to a club which played "hoof ball" and that a footballing philosophy which suited him and the other players brought from mainland Europe last summer would be adopted.
Pardew certainly made an effort to do that, and the rest as they say is history. However, one can imagine that given Cabaye's stance on this matter he (and almost certainly many of the other foreign players at Newcastle) would be less than impressed were a player like Carroll to be brought in.
Although as a professional he would not complain in public but rather get on with his job, were clubs who were challenging for major European honours to make offers for him or the likes of Cisse, Ba and Coloccini it would make it that much easier for them to say goodbye if the style Newcastle were playing wasn't one they liked.
All things considered, it is highly likely now that if Andy Carroll does leave Liverpool this summer – although one can never predict anything in football and he could still easily end up elsewhere – for better or for worse it would seem that it would be to return to Newcastle, and reclaim his status as the "local lad done good".
Where this will lead for Newcastle and Carroll nobody can know – he could prove to be a useful alternative option in certain games (a Plan B if the normal approach doesn't work), or surprisingly good at adapting to Newcastle's current style of play, or he could prove to be the undoing of all the work done by Alan Pardew, Graham Carr and the rest of the Newcastle backroom staff over the past year.