Time to Offer Hatem Ben Arfa a New Deal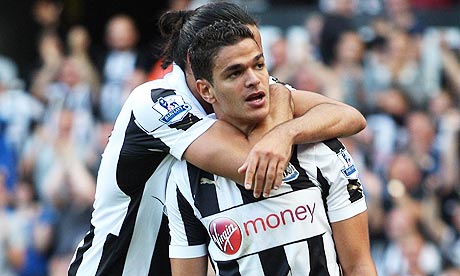 The Barclays premier league season is still in its early stages but as a Newcastle fan one man who has already captured the imagination is our number 10, Hatem Ben Arfa. Not only is he the top scorer, he looks the sharpest of all the Newcastle players. This is surprising given the fact how much preseason he missed because of France's participation in European Championships.
This is what Alan Pardew has said about Ben Arfa's performances so far this season.
"Hatem's really on fire for us at the moment." "He was the real highlight of the game against Aston Villa." "He's just a special talent. He's been our best player."
Ben Arfa is my favorite current toon player and I think he will only get better and better as the season moves along and games come thick and fast.
Now of course Ben Arfa initially signed on loan from Olympique De Marseille before making his move permanent in January 2011 penning a four and half year contract. He is contracted to Newcastle till 30th June 2015.
Even though there are still three years remaining on Hatem's contract, I really hope the performances displayed by him are rewarded and he is offered a new and improved deal.
I know as things stand he would be one of the highest earners at the club but the raise that he would get will be well and truly merited. Mike Ashley did a similar thing with Cheick Tiote when he was signed from FC Twente having initially signed a long term deal he signed an improved longer term deal which will keep him at St. James's Park 2017. Also Tim Krul signed a new deal last season that will keep him at the club till 30th June 2017. So why not with Hatem too?
Let's be honest, either way Ashley will be safeguarding one of his top assets and even though in the modern day football nothing is Iron clad, it will keep the vultures from making less then desirable approaches. This is what Ashley has been doing at Sports Direct where the reward has been linked the results.
I will go as far as to say if needed make Ben Arfa the top earner at Newcastle United. It will only set a right example for all the youngsters coming through the academy and all the other team members. The timing for me is just perfect as he has now shed his bad boy image that he had back in France and focusing solely on football. It will give fans a lift as well after a less than inspiring transfer window.
I really hope Mike Ashley realizes the need to protect his top assets and offers an improved contract to Ben Arfa. Or may be Ashley already has this in mind and will offer a new deal next season when he saves a big lump of money when a certain Mr. Xisco moves on.
Let us know what you think. Should Hatem Ben Arfa be offered a new deal with three years still remaining on his current contract.
Comments Welcome