Chris Hughton Gearing up for SJP Return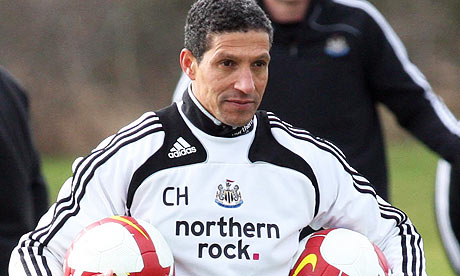 Chris Hughton has today talked about his old club, Newcastle United.
Chris Hughton: "From the day I left Newcastle it was a conscious decision that I was only going to look forward.
"It is not a nice thing to happen to anybody when you lose your job but unfortunately it is part and parcel of the game.
"I think through any experience – good or bad – you have to grow through that. I am delighted to be here at a wonderful club in Norwich City.
"You would be a fool to have other things on your mind to detract away from what the objective is.
"I consider myself very lucky that I manage a wonderful club here that is playing in the Premier League and we have the opportunity to mix it with the best teams every week.
"I have thought about how I will feel when I first walk out there but that is probably less important than how I feel at the end of the game.
"It is one that on a personal note I am looking forward to going back, but it is about the performance. I had a very good three years there and the supporters were excellent to me.
"A lot of the staff are still there from my time. I will certainly enjoy the occasion better if we go there and give a good account of ourselves. It is a very difficult place to get a result.
"They are an extremely good team and one I expect to be pushing for Champions League places.
"It is a very daunting place to go but we have a team I would like to think will look forward to that experience. They are a wonderful outfit with some fabulous players.
"What they have done since my time is brought in players to the squad to make it more competitive. I think it is no surprise to see where they are at this particular moment.
"I think it showed what Newcastle are about at Everton and how they can change a game.
"I don't think it would be too unfair to say Everton were the better team in that first half period. You always feel with them that they can make the changes to open up a game, particularly with Ba up front. That is as prolific a strike force as anywhere in the country.
"When you have that ammunition, along with (Hatem) Ben Arfa, who is their best player this season by all accounts, they have a real attacking force that can change a game. It was no surprise to see them back in it. They were perhaps a touch fortunate with two decisions that went their way, but they really forced the issue.
"The advantage you have is being able to rest players and there is probably only two or three that will play on Sunday.
"The disadvantage is that perhaps you would like to get through some work during the course of a normal week that you just can't because it is a disrupted spell.
"The planning time is limited. They get back at some point on a Friday, maybe with one or two knocks, and that makes it difficult to train much. The big clubs who experience that season after season get used to it and work around it so that come matchdays they have real good quality to handle the situation.
"The fact he made changes was no surprise to me. I think if they weren't comfortable enough with the squad and the team they put out they wouldn't have done it.
"It was a good result away from home and everyone knows at home they are a strong outfit. With what they have and the cup competitions they are likely to be involved in he has to use the squad the best way he can."