Were Newcastle Too Quick to Offload this Youngster?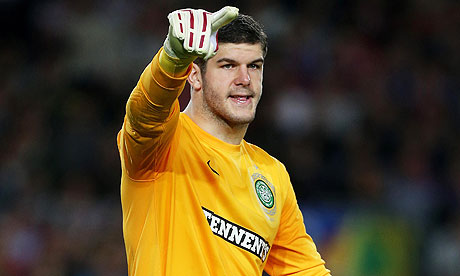 Newcastle United let young goalkeeper Fraser Forster go out on numerous loan spells to four different club over a five-year period before finally deciding that he wasn't worth keeping.
On the 30th of June this year, it was confirmed that Forster would be joining Neil Lennon's Celtic on a permanent contact, having been with them since 2010.
Now, with Forster putting in a series of eye-catching performances on both a domestic and continental scale, it does beg that question of whether perhaps the club was too hasty to let him leave. This has come to the fore particularly in recent weeks, with Forster putting in a great display in Celtic's narrow, heroic defeat against Barcelona in the Nou Camp, and also his call up to the senior England squad for the recent qualifiers against San Marino and Poland.
Obviously, Tim Krul is Newcastle's current first choice goalkeeper and doing a fine job of it, so there is no doubt that Forster would merely be a back-up to the Dutchman. However, Newcastle's other two goal-keepers aren't of a similar high caliber, with Rob Elliot seeming a bit hit and miss in his appearances (which albeit have been sporadic) and veteran Steve Harper possibly 'over the hill now'.
Harper's performance in the recent defeat to Manchester United at St James' was nothing short of sub standard, and while we must be quick to recognize his years of great service to the club, we must also be realistic. Harper was caught out for Tom Cleverly's stunning third goal, and was also lucky when caught in possession by England speedster Danny Welbeck.
This means there are two schools of thought. Obviously, Krul is himself also young and have a long and prosperous career ahead of him, potentially at an even higher level, so some will argue that Newcastle don't need a particularly good back-up keeper. This is a philosophy brought into by many clubs, for example Chelsea opt to keep Petr Cech as their main man, with much worse options left in reserve.
However, as we've already seen this season, Krul is susceptible to injuries, missing around a month with an elbow injury earlier in the campaign. Rob Elliot himself picked up a knock in the Europa League campaign. It is in these situations that Newcastle could benefit with a very capable pair of hands waiting to step in, which the clearly talented Forster would offer.
Looking at other clubs in the Premiership, such as Manchester United themselves or maybe Aston Villa as another example, they both choose to operate with two quality keepers and are not scared to chop and change. We've seen Shay Given dropped in favour of Brad Guzan in recent weeks there, and another more recent example would be Tottenham Hotspur, who now boast Brad Friedel, Huge Lloris, Carlo Cudicini and Heurelho Gomes as options for inbetween the sticks.
Obviously, questions can be asked over whether Forster would have been willing to settle for a number two slot, especially at such a crucial stage in his development. However, with Newcastle playing in Europe this year, he'd have be certain to get games, as Elliot and Harper both have so far in the campaign.
Therefore, it's safe to make a judgement on the question posed ; Newcastle were certainly too hasty to permanently offload such a star of Forster, and will nervously watch his future development to see what becomes of such a talented youngster, and what might have happened.
What do you think? Was he worth keeping?