Poll: Who Could be the Next Newcastle Captain?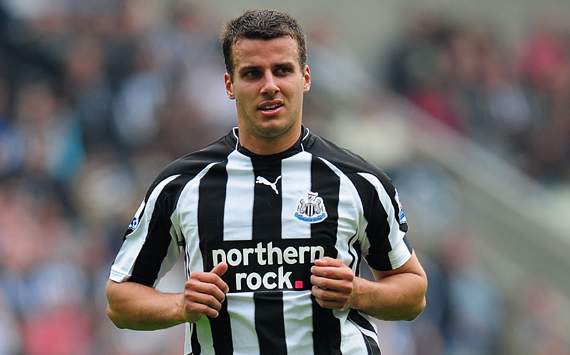 Fabricio Coloccini has been a brilliant player for Newcastle during his spell in the North East.
Despite suffering relegation in his first season in England, the £10.3 million acquisition from Deportivo has always been a loyal servant to the club, delivering many brilliant performances. Saturday's 0-0 draw against Norwich was a case in point, with Coloccini outstanding. However, this week it was made clear that he wishes to leave and return to Argentina, potentially even in this window.
If this move doesn't materialize this month, he may well still leave in the Summer. While Newcastle fans will be disappointed to see him go, it is now time to look at who could be the next Magpies captain. We take a look at the leading candidates here, weighing up their respective positives and negatives.
Jonas Gutierrez
Another Argentinian, Gutierrez is the current vice captain of the club and therefore must be considered. He again has been a good player for the club in recent years, but his form this season has been below par.
Obviously the captain should be a player who almost always warrants a place in the side, and there in no guarantee that the 29 year old will be in the side when Alan Pardew has a full squad to choose from. While this means he is unlikely to be the next skipper, he has captained the club on occasions when Coloccini has been injured or suspended, and would be a safe option.
Steven Taylor
Having been on the books of Newcastle since 1995 as a teenager, there would be no candidate popular than Taylor for the armband.
With 217 appearances for the club, he would command the respect of all the other players while also the support of the fans. There is, however, a major stumbling block.
Taylor's recent career has been riddled with various injuries, and he only made 14 Premier League appearances in both of Newcastle's last two seasons. This campaign has been a similar issue, with only 11 appearances so far in the league. While these problems continue, Taylor isn't a viable option.
Tim Krul
A more left wing shout, 24-year-old Krul could well be a future Newcastle captain. His performances over the last few seasons have been brilliant, and he has the number one jersey well and truly secured.
He appears to possess genuine leadership qualities, and even at the age of 24 has already been at the club for nearly 7 years. The negative here would be that there is some debate over whether Krul will be at the club long term, with many big clubs said to be interested in the Dutchman, who has four international caps already.
Others in the mix
There are others to suggest, notably Yohan Cabaye. The Frenchman has captured the hearts of the Toon since signing last year, and has international experience.
Shola Ameobi is another one who has to be mentioned, he's been such a loyal player to the club over many years, but realistically he has never played enough to be permanent captain. He has lead the club with distinction on occasions though, barring his red card as captain against Brighton.
There are no candidates that jump right out, and that is another reason why they will be desperate to keep Coloccini. However, if he does leave, Pardew will be faced with a very tricky decision.
By Harry Aitkenhead
Who do you think would be the ideal man to replace Captain Coloccini if he leaves? Are there any players you'd like to see the club bring in who could be future captains? Get in touch and let us know your opinion, either on Twitter or via the comment section on the site.