Newcastle 'United': Football Providing Cultural Shift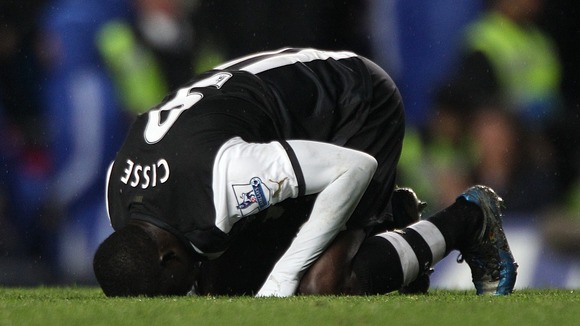 They say 'change is the only constant' – and there has been much of this down the years with Newcastle United. In fact the only thing that hasn't changed is the famous Black and White stripes. However Newcastle United now have a very different look about them from when they did 25 years ago.
Historically more famous for its Brown Ale and the Bigg Market than its 'cosmopolitan' feel, the City of Newcastle is now certainly has a more diverse look to it. Unlike any other City in England, the football club truly lies at the heart of it and I believe it must take a great deal of credit in enlightening Geordies to different customs, faiths, and cultures. It has come a long way since the BNP used to stand outside St. James' Park and hand leaflets. Thankfully those days are LONG gone.
We've had the first Black Manager to win something in the history of the FA in Chris Hughton. Granted he's about as 'Black' as Obama (and I don't mean skin colour) but credit where it is due his race among Newcastle Fans was never even raised as an issue.
Much like Stevie Wonder – I often wonder if Mr Hughton realizes himself that he's an Ethnic Minority! In 2011 Mr Hughton was presented a special trophy by the chair of 'Kick It Out' Lord Ouseley saying this about the former Toon Boss "Chris Hughton is a pioneering figure whose achievements we hope will be recognized for years to come.As the first black manager to achieve such heights, we feel this is worthy of recognition".
The award went unnoticed and I decided to write a piece about his achievements and to celebrate a milestone in football history. However, as soon as it went online I was berated by fellow Toon fans saying "What has his colour got to do with it? He's a good manager!". 
I think they had missed my point. Yes he is a good manager. What made him different/special was that at the time he was the only black manager across all four divisions in England and that he was the first Black Manager to win the Championship, breaking records along the way (Most points in the Championship, Most goals scored in the Championship).
To put this into context, think about the great non-white players that have played in the Premier League (Andy Cole, Les Ferdinand, Patrick Veira,etc) and how many have then gone into management at the highest level?  Chris obviously felt comfortable enough to take on one of the bigger managerial jobs in England (outside of the top 4) and was quickly respected and adored by the fans.
I recall an interview with the late Sir Bobby Robson on the recent signings he had made and on upcoming  players he had  at the club and how they were all black (referring to Carl Cort, Shola and Lua Lua) and whether that was an issue. I baulked at the question as it was on live TV but true Sir Bobby style and as un 'Politcally Correct' as you could get Sir Bobby answered "No its not an issue at all – 'these' lads are natural born Athletes". This was certainly true in the case of Lomano Lua Lua who had actually started out as a gymnast. 
Times have definitely changed on Tyneside and I'll tell you how I know this. I was coming out of St. James early last season and it was rammed as usual.  I was walking along tuning into a conversation with a couple of lads in their 20's. They were discussing Ramadan and how would we cope with it next season as Ba only hit form after it had finished. One of them stated, correctly, that Ramadan actually moves back 10 days every year (until a certain point) and that "we should be fine as it ends just after pre season".
I'm an Indian and have had Muslim friends all my life ….and even I didn't know that! Turns out he was right, as Ba started the season in good form scoring a cracker on the opening day against Spurs, with no signs of any fatigue. I think we must be the only club to have the word "Ramadan" in a football song ("Demba scored 16 since Ramadan"). 
After much talk about Newcastle and their foreign imports looking past the value for money there are many more positives to come out from signing players from across the globe.
Firstly the Muslim boys we have normally don't drink alcohol (I'm aware this is not always the case) so there's no drunken nightclub brawls with Ba or Cisse like Ranger, Carroll and more recently Danny Simpson. Secondly the French boys (certainly in the case of Cabaye and Debuchey) tend to be settled, family oriented men with wives and children, so hopefully there will be no back page scandal for Pardew to have to comment on.  
Finally, in the case of Cisse and Sissoko, these players have come from humble beginnings and value the money and the opportunity they have in front of them, unlike the £25k a week British footballers that believe its okay to spell out their name in £100,000 and post it onto the internet or wipe their arse with £20 notes. I'm aware that Ba left for more money but I would like to believe it was the opportunity he left for and not the money as we had matched what Chelsea had offered.     
It's not all about foreign faiths in the dressing room with the welcome addition of practicing Christian Gael Bigiramana. In the same way Cisse and Ba have showed their respect for their God when scoring by kissing the ground, it was refreshing to see the young Burundi born star on his knees praying to the heavens so openly when he scored a screamer against Wigan earlier this season.
Again from humble beginnings – its easy to understand why these players believe in a higher power, their lives could have been so different but instead by some 'miracle'  they are paid a fortune to play the beautiful game in the best league in the world.
The club now has a more cultured feel to it, and its clear from living in Newcastle this has slowly transcended into the region.
What do you think? Have you noticed a cultural shift in Newcastle in the past few years?
By Amit Shabilla
Related articles