The Price of Glory: A theoretical look at what silverware would mean to Newcastle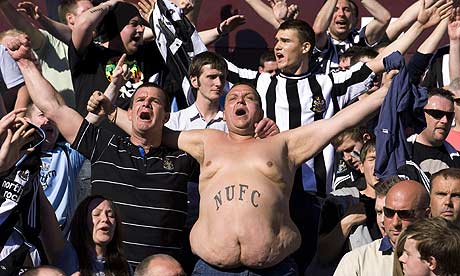 We may have an uphill battle against Metalist Kharkiv on Thursday night but IF Newcastle were to progress into the last 16 of the Europa League, Newcastle fans may 'dare to dream' about finally picking up their first trophy in 44 years.
Most of us have seen Newcastle come agonisingly close on more than one occasion, finishing runners up in 95/96, 96/97 in the Premiership and the FA Cup in 97/98 and 98/99 seasons.  
We may be miles off actually thinking about winning something but, much like how I start to think about how I'd spend my EuorMillions Jackpot before I check  my lottery tickets on a Monday morning (because Monday mornings aren't depressing enough), I often find myself thinking about how I would celebrate Newcastle United finally wining a trophy.
There have been a few quirky ways over the years in which people commemorate a win or a special moment in history. Didier Drogba had custom rings made for his Champions League teammates after their memorable win in Munich last year while Birmingham City celebrated their 'giant killing' Carling Cup win against Arsenal by getting relegated 5 weeks later.   
This one made me smile: http://www.flickr.com/photos/85545054@N07/7839108896/   
Love them or loathe them Manchester City created THE greatest premier league moment last season with the 90thminute equalizer and 94th minute 'Fergie time' winner to snatch the Premier League Crown from their local rivals.
With Newcastle fans being as fanatical as they are, probably spending arguably proportionally more of their income on following Newcastle United than any other fans  (I have absolutely no stats to back this up) and having more time (44 years and counting) than most other football fans to think up how they would actually celebrate winning a trophy I thought I'd pose the question :
IF/When Newcastle actually win a major trophy – how would you celebrate the achievement?
I read in Rob Lee's autobiography that 'had we have won the league with Kevin Keegan there would still be a party going on now somewhere in the City'. That was written in 2001, and I read it 2005 – and it stills seems true even today!
No doubt if Alan Shearer lead us to glory in his 10 years here we would have classrooms full of little Alan's or literally 'Shearer's running around. It would be interesting to see the kids names should we win something under the Pardew era, as we may see an influx of Yohan's or Fabricio's in the delivery rooms across the RVI. What better way of remembering such an event on a daily basis than calling your bambino after it – and what better way to celebrate on the night than 'scoring' in your own bedroom FA Cup final.
Tatoos have always been a permanent visual representation of showing your passion, but I think fans may now be hesitant with Newcastle's revolving door transfer policy – just ask this poor lad:
Andy Cole was sold to Manchester United 2 weeks Later.
Should we even make it to the final of the Europa League in Amsterdam this year it would be worth setting up a few Greggs stores in and around the stadium. The thousands that couldn't get on the Amsterdam ferry may even try and swim across to get a chance to see their team in the final!
I was at the Brugge game last year and to say we took over the town would be understatement. Approximately 8000 made the short trip over to Belgium and what a site it was. Credit to the fans, the town was beautiful and remained so after we left, the boys and girls were well behaved.
Local heroes like Sir Bobby Robson and Alan Shearer have been given local accolades for their sporting contributions to the City. Sir Bobby was given 'Freedom of the City' in 2005 by Newcastle, an award shared by global personalities such as Nelson Mandela and more recently Aung San Suu Kyi. While Alan Shearer was awarded an honorary degree from Northumbria University for his sporting achievements in a black and white shirt.
Prince sang about Partying like its 1999 in the 80's, so even though we may be waiting a long time for this party at least we have plenty of time to plan it. Hopefully it will be sooner than we think, but I know in my household I'll wake up to a scene out of the hangover with echoes of diamond rings and trips to Disney land promised to the wife and kids… and it would be worth every penny. 
What do you think? How would celebrate silverware?
By Amit Shabilla