Is this Formation the Answer to our Tactical Problems?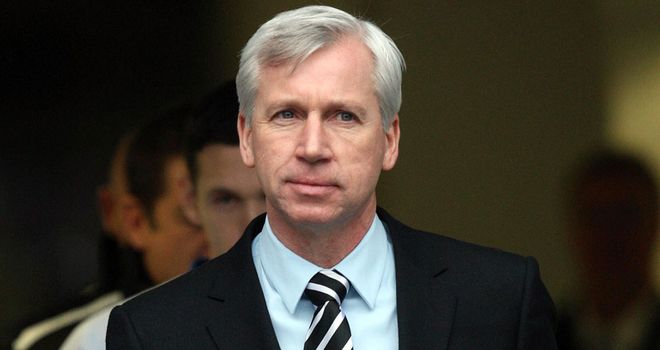 (Author's note: I drafted this blog before Cissé's super strike against Southampton, the reappearance of Tiote as how he used to be and what, in my mind, was Debuchy's best game in a black and white shirt.)
Alan Pardew has a problem: three very competent central defenders vying for two places; after Haidara's very promising debut, three full/wing backs are vying for two positions. And with Ben Arfa coming back, who makes way for him? This got me thinking about how Newcastle could put their best players out so that they play to their strengths. A question arose – "How about playing 3-5-2 or more realistically 3-3-2-2?"
The team I had in mind was something like this:
Krul
(when fit)
       Taylor       Mbiwa        Colocinni
Debuchey                 Tiote/Perch,                  Santon
Cabaye                                    Sissoko
   Ben Arfa/Gouffran
Cissé
When playing at home it allows us to play a wide formation with two attacking wingers but without leaving us short at the back.
This season, Newcastle have looked very exposed to counterattacks. Playing with three central defenders gives us the flexibility of channeling play into well defended areas. And even if the play takes one of our central defenders out wide, we still have two players covering the centre who would be joined by Tiote/Perch dropping deep. Furthermore, it allows Steven Taylor the option to get in the opposition's box for every free kick, no matter how deep.
We'll have Debuchey and Santon playing advanced wing back roles which suits their style more than deep lying full backs. 
Tiote/Perch playing deep allows Cabaye and Sissoko to get forward – a combination of world class link play and power. Cabaye reminds me of Paul Scholes at his best and in my humble opinion was, until a month ago, the best player on our books – along with Ben Arfa and Colo. Sissoko is up there with Yohan. He's our version of Yaya Toure or perhaps Patrick Vieira . I get so excited when he picks the ball up with a yard of space in front of him.
Up front, you can pick any two from three. I see Ben Arfa or Gouffran being given a free role behind Cisse – who is best playing in the middle off the shoulders of the opposition's defenders.
With Haidara and (dare I say) Ameobi (Carroll again, next season?) also on the subs bench, methinks, this is a formidable team and formation – with plenty of options to change things around when needed. It will put much needed pressure on Gutierrez, Tiote, Anita and Marveaux – all of who have underperformed this season.
'Perchinho', on the other hand, has been a consistent performer and continues to progress. Whilst Tiote would fetch a much higher transfer fee, I would start Perch ahead of him right now and tell Tiote to fight (without getting 'red carded') for his place – after all, that is what Perch has had to do since his arrival, and he's certainly proven his worth since. 
We now have four players who give me a sense that something special can happen when they get the ball: Cabaye, Ben Arfa, Sissoko and Santon. I'll add Cisse when he regains his scoring touch. He has to play up front in the middle – otherwise his undoubted talent is wasted.
And with Sissoko and Cabaye to feed him (I'm thinking of the goal at Villa and disallowed two against Metalist), I'm confident he'll come good. I'd also like to add Debuchy to the above list but perhaps he's going to need this season to suitably adjust to the pace of the PL.
Looking back at the above list, all but Santon have either been, by and large, absent or only just joined the club. Thereby hangs the tale of this season – up until a month or so ago we simply haven't had enough quality players available.
In my mind, a fully fit Newcastle XI (overall) is as good as the Spurs XI (and I include Bale), as good as Arsenal, as good as Liverpool, better than Everton and good enough to compete strongly against the Manchesters and Chelski.
Overall, we have a stronger squad now (Ba apart) than we had last season. If we were to add a world-class striker then I reckon we'd be ready to have a crack at obtaining a Champions League position. This is purely hypothetical, and I understand the apparent absurdity of this claim given that we're currently 13th in the league, but I seriously reckon that our team is good enough to compete with the top teams in England.
Yes, you heard it here first. Tell me "Yer off yer ~~~~in' head man", call me the eternal optimist: I put aside my black and white blinkers and reckon it would take one or two top class players to transform Newcastle into Champions League hopefuls.
Then that begs the question: Does Pardew have the nous to get us there? This season we are capable of capturing 10th spot and finish well above the lads down the A19. Nowhere near the dizzy heights of 5th like last year – so let this be a season of learning.   
Howay the Lads
/|\
Paul C Burr
Author of Learn to Love and Be Loved in Return, 2012: a twist in the tail and Defrag your Soul.
Related articles