Mcmanaman Yet to Apologise After Horror Tackle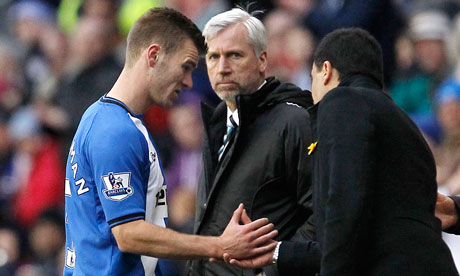 Newcastle manager Alan Pardew says the club have not received an apology from Wigan over Callum McManaman's controversial challenge on Massadio Haidara.
There have been suggestions that talk of the Haidara-Mcmanaman incident has gone on for too long: that the tackle was unintentional and that, seeing as Haidara is now on the mend, we should simply forget about it.
Previously I had been hesitant on criticizing Mcmananam for the tackle; he's a young player and certainly hadn't, in my opinion, intended to hurt Haidara. When I watched it on tv, I saw a badly timed tackle but an inexperienced player but couldn't believe that a player so young would intentionally go out of his way to possibly end a fellow professional's career. 
However, after Pardew's interview today, my opinion of the lad has changed significantly; he has not yet apologized for the tackle. 
Dave Whelan had this to say after the match:
The best thing McManaman can do in the meantime is to apologise and at least win back some favour for Wigan in what has become a growing storm."
However, disappointingly, this is not the case.  
When today asked if either Newcastle or Haidara had received an apology from the Latics, Pardew said: "No, I don't think so.
"I was a little bit surprised at the manager's (Roberto Martinez) and the chairman's (Dave Whelan) comments that it was a fair challenge – I think everybody else could see that it wasn't. But that's opinion and I can understand them wanting to defend their player.

"It would be interesting to know what their opinion would have been if it was Cheick Tiote on [James] McCarthy, their outstanding young midfield player.
I think it's absolutely disgraceful that Mcmanaman has failed to make any approach of reconciliation towards Haidara. The whole situation is reminiscent of the Shawcross-Ramsey incident in which the former failed to apologise after breaking Ramsey's leg in a Premier League match back in February 2010. 
Shawcross only sent a short text message in apology, but I suppose it's at least better than what Mcmanaman has done!
While Whelan and the manager have every right to defend their player, comments from Martinez insisting McManaman won the ball 'as clean as a whistle' are way off the mark and show a lack of humility in the circumstances.
Any attempt by Mcmanaman to save face now would be futile: he's missed out on an opportunity to perhaps show, not just to the Newcastle fans, but also Wigan fans, that he's not an absolute scumbag. I'm just glad we don't have any players like him on our roster. 
Comments Welcome