Get Ready for the Biggest Week of Newcastle's Season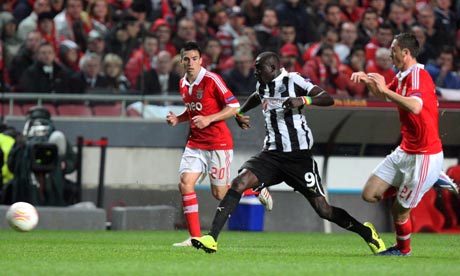 Newcastle are facing a monumental task and perhaps the three biggest games of the season. The unenviable task they face sees them come up against Fulham, Benfica and Sunderland at home. 
With football's unpredictability never failing to amaze, Newcastle have found themselves pulled back into the scrap at the bottom of the league. A win against Fulham is vital and will calm many nerves. It's importance should not be overlooked, because if they win and the three sides in and around them lose, theoretically United will be in a  much better position to push out from the struggle.
However, a win is not a certainty, although Fulham's away record is infamously diabolical they have won their previous two games and as Newcastle proved last season, momentum is everything.
They'll have to be cautious and will need to eradicate the sloppiness that cost them dearly in Lisbon on Thursday. As well as being cautious, the Toon must nullify the threat of pantomime villain Damien Duff who seems to have a taste for scoring goals vs Newcastle. Newcastle need to come out fighting  and they need to be sharp, they cannot afford to be wasteful in front of goal like they were against Benfica.
But Pardew has his part to play, he needs to get his players fired for this game in particular, naturally one would assume that they'd be up for the glamorous European tie on Thursday and one would hopefully assume that they'd understand the significance of the derby. Fulham at home is the least glamorous of the three ties but one of vital importance nevertheless.
As a devout Newcastle fan I want to win something. I'm glad that in the last few weeks Pardew has targeted the Europa League for silverware but now I want him to stick to his guns. On Thursday in front of a packed cathedral I want to see guts, I want to see passion and I want to see us win. 3-1 isn't the end of the world.
Newcastle have proved in the last two years that they can beat anyone at St James' Park; they've defeated Chelsea and Manchester United when they've been up for it and when they've wanted it.  Therefore defeating Benfica 2-0 is achievable especially if they play that suicidal high line again. For the most part of Thursday's defeat we restricted and frustrated them to long shots before tiredness and preventable mistakes allowed them into the game. We need to do the same in the second leg. 
Furthermore, we need to be sharper in front of goal. Cisse was agonisingly close against the Portuguese outfit but he will know that he should have scored. Hopefully Cheick Tiote will be back in contention – he may not have been in the best of form this season but Toon fans are aware what he is capable of. We need steel and we need goals. We can do it.
The lads have to pick themselves up win, lose or draw vs the mackems. Form counts for nothing in the Tyne-Wear derby but the players have to put in the performance of their lives three days after Benfica. Sunderland have one fit striker and are in a horrendous run of form, yet with the introduction of the fiery Di Canio we're in uncharted territory.
North east pride is at stake, we can't lose. Key players such as Cabaye and Cisse have to be firing on all cylinders, Tiote needs to keep his head, Shola needs to sparkle and the new acquisitions have to understand what it means to the people of Newcastle. Whoever wants it, wins it and I want it.
It's no easy task but then again this is Newcastle United. Anything could happen.
Comments Welcome