Top 5: Worst Newcastle Signings Ever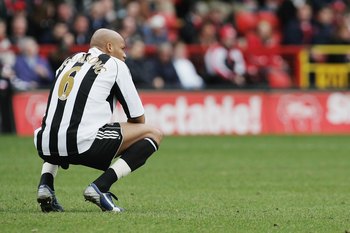 Newcastle United's illustrious history of buying players with little or no regard for financial implications seems to be all but over under the currently profiteering and future-planning regime Mike Ashley enforces so strenuously – good, right?
Absolutely, in my opinion, the catastrophic list of players who've cost us a small fortune to don the famous black and white stripes and went on to do almost nothing for us is as impressive as it is embarrassing.
It was difficult for me to exclude sensational flops such as Hugo Viana, Alan Smith, Des Hamilton, Silvio Maric, George Giogriadis, Claudio Cacapa, Carl Cort, Geremi, Sol Campbell, Amdy Faye, Jon Dahl Tomasson, Patrick Kluivert and Stephane Guivarc'h – the list goes on, but who's our worst 5? Here is mine:
5. Jean Alain Boumsong
A few eyebrows were raised when Newcastle United paid £8,000,000 for his services from Scottish giants Rangers, who'd signed him on a free only 6-month previous on only a measly one-year deal.
After an initially bright start to his NUFC career second season syndrome kicked in and after a string of poor performances he was promptly sold during the summer of 2006 to Juventus for a cut price £3,300,000. The French international did however manage 49 appearances for us during his short time here, which perhaps saved from the lower cusps of this list.
4. Elena Marcelino
Signed in 1999 for a massive £5,800,000 the Spanish centre-back (and then international – being capped 5 times) certainly excited the Newcastle faithful, unfortunately that soon faded and he went on to make only 20 appearances for Newcastle.
The Spaniard was blighted by injury and misfortune, ultimately failing to make an impact, most notably a snapped finger tendon which kept the centre-back out for a staggering 2 months. He'd spend his final year with the club in the reserve side before agreeing to leave by mutual consent in January 2003. The transfer proved a disaster for the club and Elena's career ultimately as the ex-international and Spanish Supercup winner (1998) would see out the final few years of his career in the Spanish Segunda División with Polideportivo Ejido.
3. Albert Luque
After previously shining in a friendly fixture for Deportivo against Newcastle hopes were high when we paid a staggering £9,500,000 the Spanish international's signature in a bumper 5-year contract, unfortunately proving to be to no avail.
Luque managed only 34 appearances netting 3 times in all competitions between 2005 and 2007 (his first goal memorably a classy chip in a Premier League tie against Sunderland), later to be sold for only £2,000,000 to Dutch-club Ajax. His transfer was later subjected to the Stevens enquiry report in June 2007, one in which inconsistencies of Graeme Souness' transfer regime were investigated.
New manager Sam Allardyce was on record as being willing to give Luque a proper chance to impress, however soon handed his number 7 shirt to new-signing Joey Barton leaving Luque on the fringes of the first team without so much as a squad number. As you can see in the image above, the cost per goal does not make for good reading.
2.  Michael Owen
As club record signing joining us for an eye watering £16,000,000 Michael Owen was greeted at Newcastle by thousands; hype was so great he was even offered the number nine shirt by NUFC legend Alan Shearer.
As an England mainstay for many years (89 apps, 40 goals), winner of countless prestigious personal awards (Ballon d'Or 2001, World Cup Best Young Player 1998, Premier League Golden Boot 97/98 & 98/99 amongst others) and world football name it's safe to say he arrived at NUFC under massive expectation, almost the hope that he'd replace Shearer and write his own name into Geordie folklore as it were – it wasn't to be.
Owen cost Newcastle a jaw-dropping amount of money, and although did offer a fairly decent goals per game ratio (0.38 G/PG), he simply did not play enough over a four-year spell to justify his cost to us; making only 14 appearances in his first two seasons and 79 times over a four-year stay. His moral actions as club captain in the aftermath of relegation can only be described as spineless and outright disrespectful to a club that had offered him so much, for that , it's safe to say the majority of Geordies will never forgive him. Michael Owen's total cost the club comes in at only £6,550,000 less than the other four players of this list combined.
1. Francisco Jimenez Tejada
Xisco, to you and me, I'm not entirely sure where to start with this one. The disaster that Xisco has been at Newcastle surely rivals that of any other football club. Signed by then Director of Football Dennis Wise without the consent of Kevin Keegan (allegedly – partly resulting in his resignation and long-standing legal battle between himself and the club), Xisco was offered extraordinary wages on a bumper 5 ½ year contract which was only recently ended by mutual consent.
He has made only 11 appearances for Newcastle, scoring once. Financially his cost to Newcastle has been catastrophic, and where I loathe him to a certain extent for the money he has cost my club I cannot justify blaming him. The board offered him that contract, and had I been in a similar circumstance I'd of seen out my contractual rights as he has. Where he has shown promise at times – particularly when given the opportunity by Hughton – he simply isn't good enough for a club such as ours.
Note: All fees are based upon archives, reports and prior author knowledge. Fees, wages and other expenses are rarely publicly disclosed and the figures used have been purely speculated. The total cost is calculated based upon net transfer fee and approximate weekly wage; it does not include bonuses, compensation given/received, and/or any additional fees.
Comments Welcome
Newcastle Stats – Statistical analysis of Newcastle United Football Club.