I'm not being negative but…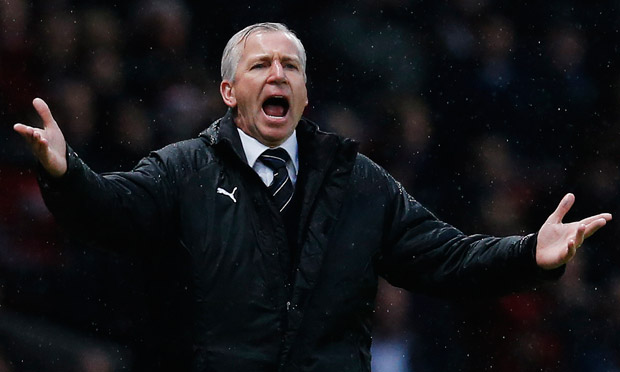 I don't think the vast majority of Newcastle United fans could be accused of only singing when they are winning, but it would appear that some sections do just that, and are taking things a bit too far.
On Saturday we saw Newcastle United run out 2-1 winners against Aston Villa at Villa Park. Not only was the result excellent, but so too was the performance and credit must go to Pardew and the lads for that. But that's where the singing should end. We got 3 well earned points. Great. But it is only 3 points, and even though we performed admirably in getting them, we need to keep this in mind.
15 minutes of good football, as well as another 90 minutes of good football doesn't excuse the dross that was served up to us last season. Nor does Pardew's selection of 4-3-3 (a formation many of us were calling for for months) absolve him of the criticism he received for the defensive formations and ludicrous tactical decisions he has made in the past that have left us scratching our head and tearing out our hair (those of us lucky to still have some left that is!). It's a step in the right direction, but that is all it is. One solitary step.
Now we also need to address an even more pressing concern that could burst this bubble and bring all of us back down to earth with a bang: squad depth. Will we still manage to play 4-3-3 when the inevitable happens and injuries begin to take its toll on our squad? Pardew, in his post-match interview, suggested that the only reason he was able to field 4-3-3 was due to having a practically full hand to choose from.
Reading between the lines, this would suggest that whenever injuries do hit our squad, we will no longer be able to do so, especially if we suffer injuries to any of our forward players. Therefore if we see a return to 4-4-2, or *sigh* 4-2-3-1, chances are, it is not really Pardew's fault, and it is more to do with the failings of Joe Kinnear, and more specifically, Mike Ashley, for failing to provide Pardew with the resources needed in order to afford him the opportunity of setting us up that way. At least that is what I am reading from the comments of the ever so media savvy Alan Pardew.
I'm not trying to take away from the weekend's excellent result. All I am doing is pointing out that it could well be a rare occurrence this season, rather than something we see on a consistent basis given how threadbare our current squad is.
What some people call being negative, I call being realistic. What some people call nit picking, I call analysis. Whatever your take is, the fact remains that we do not have a big enough squad to cope with the strains of a full season in the Premier League, as well as being able to compete on all fronts due to the woefully unambitious ownership of Mike Ashley. When the inevitable injuries hit, I for one will take no pleasure in saying I told you so, as it will mean a return to the sub-standard, mediocre brand of football that served us so poorly last season.
What do you think? Will we be able to play 4-3-3 even if injuries hit the squad? Do you think I am being too negative and just enjoy the win? I'd love to hear your views.
Liked this article? Want to read more from this author? Then head on down to the NUFC Daily blog. Or alternatively, you can follow all the latest releases on twitter, just follow @NUFCDailyBlog