Newcastle United: The Arrogance Index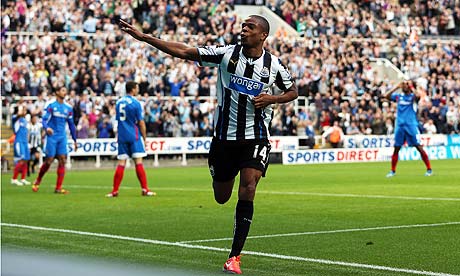 Last April I wrote a psychological profile of Newcastle blog that included the equation...
Effectiveness = motivation x confidence x competence x curiosity
E = MC3 (tain't rocket science)
After yesterday's debacle of a 2nd half against Hull, I dreamt up a new equation…
Arrogance = Confidence/Curiosity
All high performers have a high degree of curiosity, not only for how to become the best but also to stay there. It's great to be hugely confident as long as your curiosity is equal or greater.
When curiosity falls you stop asking questions of yourself. (By 'you' I mean you, me, us, we, anybody.) And when you stop asking questions you stop improving. And when you stop improving, your performance starts to fall. There's no such thing in football as cruise control, at least not until you're say 4 or 5 goals up – certainly not 1-0, with 80 minutes of the game to go, as we witnessed yesterday.
That goal may have been Newcastle's undoing. The 'arrogance index' skyrocketed. Most of the players (Remy and Anita apart) seemed to drop two gears.
Gawd knows what sort of 'pep' talk Pardew gave them at half time because Newcastle slipped right back into last season mode for the second 45 minutes.
When Pardew went 4-4-2, Steve Bruce must have been rubbing his hands with glee. Hull packed the midfield and Newcastle resorted to long balls over the top, mostly misplaced, with Debuchey being the worst offender and defender for that matter.
The French lad's nerves looked shot. Pardew mercifully pulled him off where Anita (whom I feel is the best right back at the club) carried on in his man of the match (for me) status.
There's gotta be a big question mark on the thickness or thinness of Newcastle's confidence and fitness. I saw no fight in the team during the last 20 minutes – which several times proved to be our saviour last season.
And tactics????? Last season the 4-4-2 formation failed, period. The fans knew it. The players knew it. Newcastle do not have a target man so how in hell are four players supposed to get through a blanket of 6-8 players? What was running through Pardew's mind. In my mind, going 4-4-2 sealed Newcastle's fate.
I'm going write another blog about what psychotherapists call "the flow"but I'm still too upset about yesterday's ignominy. I am not in "the flow" so I ain't going to write about it yet.
12 of the 14 players on the pitch yesterday need to take a long hard look in the mirror and get curious about what they see and what they want to see.
Howay the Lads
/|\
Paul C Burr
Newcastle United Facebook Club
Follow @doctapaul
Non-Newcastle stuff: Follow @paulburr
Business/Personal Performance Coach & Author
Facebook: Beowulf (>16,000 followers)