Is this English Shot Stopper A Suitable Krul Replacement?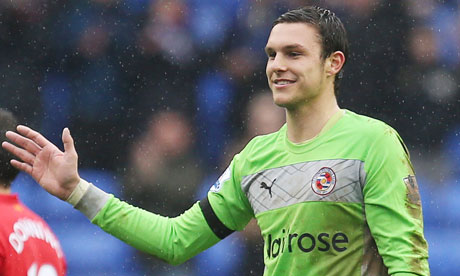 Reading goalkeeper, Alex McCarthy, has been linked to Newcastle United as a possible replacement for Tim Krul, according to reports in the English press.
These reports indicate that the Magpies have been monitoring the progress of the 23-year old who has been in good form so far this season in the Championship. McCarthy has backstopped Reading to one of the best defensive records in the second division.
Newcastle United's current goalkeeper Tim Krul has been linked to Italian giants Juventus, as well as Premier League rivals Tottenham and Arsenal. Some reports suggest that the Dutch goalkeeper could leave as early as January leaving the club without an established number one.
Krul has been a big part of Newcastle's re-emergence this campaign and losing him would undoubtably affect the club's ability to finish in the top half.
Alex McCarthy is an intriguing choice but certainly one that carries a significant amount of risk. Young and inexperienced, does McCarthy have what it takes?
A native of Guildford in Surrey, near London, McCarthy joined Reading's youth squad in 2006. A year later he graduated to the senior side but would spend the next few years on loaned at several clubs.
He split 2011-12 between Leeds United and Ipswich Town in the Championship. The next season, Reading were promoted back to the Premiership. McCarthy was expected to back up Adam Federici, but after some poor performances by the Australian, he became first-choice.
McCarthy earned several draws against Newcastle, Swansea and Fulham before he injured his shoulder in an October 4th match against Queens Park Rangers. He was forced to go in for surgery, returning only in April.
After his return, he made 10 saves in a 0-0 draw against Liverpool, prompting Brendan Rodgers to praise his performance as 'absolutely staggering.' McCarthy was briefly linked with a move to Liverpool in the summer before the Reds settled on Simon Mignolet.
His heroics were not enough to save Reading from relegation, although he did earn the admiration of English manager Roy Hodgson who selected him for two friendlies in May against the Republic of Ireland and Brazil. However he did not see any game action.
This season he has continued to gain accolades with his solid displays in the Championship, as Reading remain in contention to return to the top flight for next year.
Reading manager Nigel Adkins also praised the young goalkeeper after he made some brilliant saves in a 1-1 draw against rivals QPR earlier this month.
"I'm expecting him to be a top-four goalkeeper and there are one or two things which we will keep improving on him," Adkins said.
"We saw today – his shot stopping is exceptional, and his ability to come and catch crosses is as good as anybody."
But does he have what it takes to be a Premier League level goalkeeper? He appears to have the size at 1,93m, as well as the athleticism and technique to be a quality keeper.
However, he only has 13 Premier League matches under his belt. At Newcastle he will have to contend with playing on a bigger team with some lofty expectations.
And despite the fact that he will likely see less shots with Newcastle United than with Reading, he will have to remain mentally balanced when he is called upon.
Comments Welcome